Well. Alrighty then. I'm just gonna say it. This iPad blogging app is pretty darned sharp. I'm enjoying it, so let's continue with the blogging experience, shall we?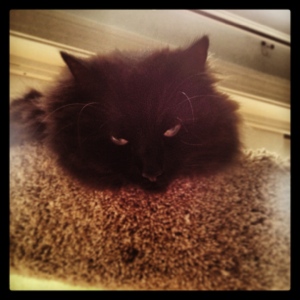 Last night's dinner was pretty awesome. We sat out on the restaurant deck, took in some of the breeze that came in, watched the boats enter and leave, and enjoyed the ambiance of being over the water. A really nice experience. Stopped off at the candy store on the way home and got some goodies to munch on for those 'in-between' times of the day …. Don't pretend you don't know what I'm talking about. I know ya do. Anyway…
Today we're planning on taking it easy – maybe do some light lounging around.
I did notice the Cape Cod sandcastle competition has left some pretty cool structures standing throughout town. I'm hoping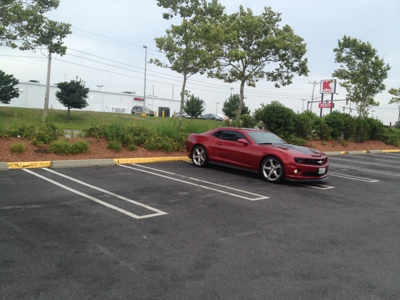 to make it to a few of the local ones we saw yesterday. Maybe take some pictures and…
Since I'm in desperate need of a new photo app, I'm currently downloading, and will be testing the functionality of, 2 new apps – which I'm sure will be spectacular and do *exactly* what I want. Here's where I start holding my breath.
For now, I'm being glared at by Miss Kitty Russell. I'm pretty sure if I try to pet her she'll rip my arm off, so I think I'll stick to planning on how this new app is going to work for me. I got this new thinga-ma-bob that connects to my iPad and allows me move pictures off my camera, directly to my iPad. We had to go to the Cape Cod Mall to get it and I'll tell ya, that was an experience.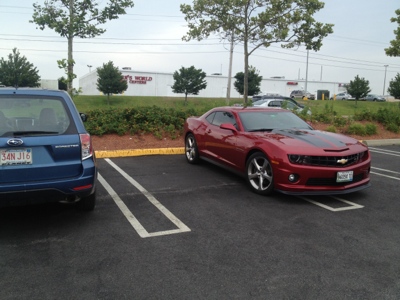 When Tony drives his Camaro to populated areas he'll usually do his best to park it quite a healthy distance from other cars, to give them space from him, and vice versa. But sometimes … people can be a little slow on the uptake. Kinda like… subtleties "aren't their thing". And, as a result, you get a situation like this – when someone who has an entire parking lot of available spaces to park – yet they insist on choosing the spot right next to the Camaro.
It's really quite something when you think about it. There's a whole big parking lot filled with available spaces, and many are much closer to the door. But nope – these folks need to park right next to the Camaro. It's a definite moment worthy of a healthy sigh.
The best part is? I could never have shown it to you without this new device I got at the mall, or this new app!